Serviced Apartment in Bangkok Thailand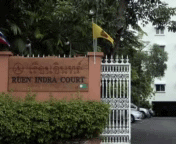 Ruen Indra Court offers the peaceful living environment with
a comfortable bed, cable TV, high speed internet and a functional bathroom.
You have got everything you need for a pleasant stay - and more !...
"And it's all at the best price!
Standard room 28 square metre
Deluke room 54 square metre
80% of previous guests would recommend this apartment to a friend.

---
For more information: ruenindra@gmail.com
We are happy to hear from you.

10 Arun-amarin Road, Bangkoknoi, Bangkok 10700,Thailand
Tel. +662 4341349, fax: +662 4354816